Applies to:
Community SONiC 202012 or before
Open Packet Broker NOS 2.1.0
Overview:
On Network Switches, Power Supply and Fans are components that provided power source and cooling system respectively. The number of Power Supplies and Fans installed on a switch vary across models, offering redundancy. Please refer to the datasheet of your switch to get more details.
Below is an image of the Innovium TL7-based 32x400G Switch that has two power supplies and seven fans. The power supplies and fans run in 1+1 and 6+1 redundancy modes respectively.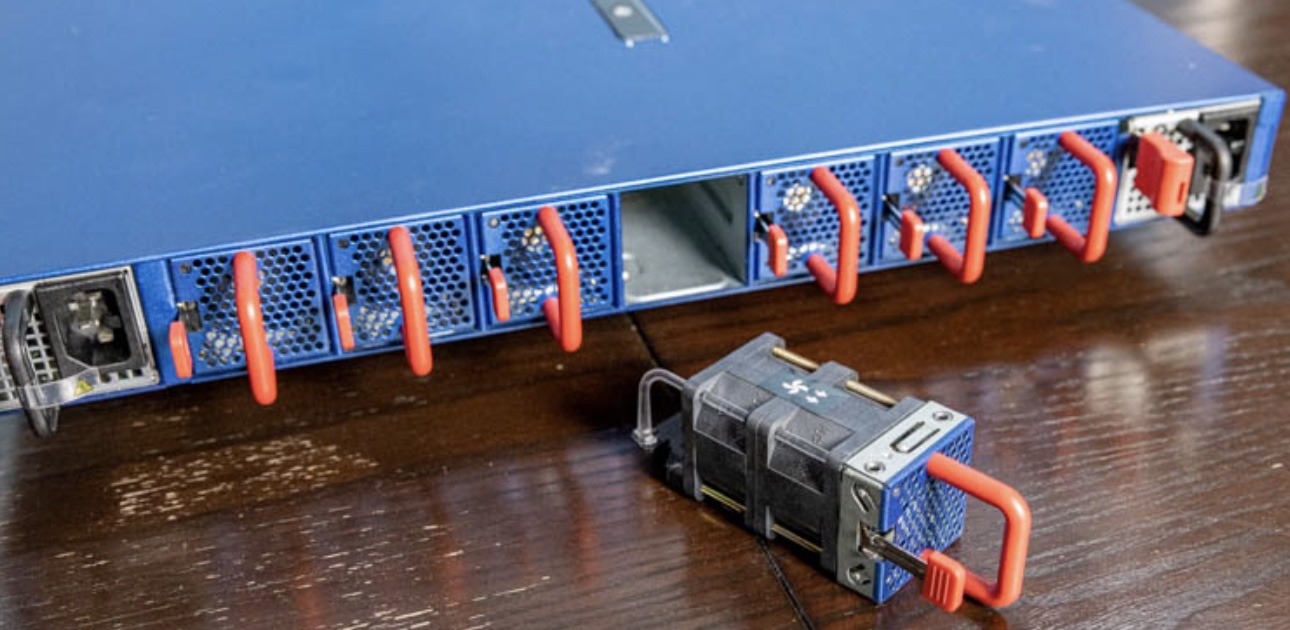 courtesy: servethehome.com
Command Reference and Sample Output
Power Supply
Fully Populated and Healthy Setup
sonic-cli# show platform psustatus
======================================================================================================================================
   PSU           Model          Serial   Hardware Revision     Voltage (V)     Current (A)       Power (W)      Status             LED
======================================================================================================================================
 PSU 1   MTEF-PSF-AC-C    MT2029X14878              A3          14.000          28.301           390.0              OK           green  
 PSU 2   MTEF-PSF-AC-C    MT2029X14877              A3          12.007          27.656           328.0              OK           green
Failed State
One of the below reasons could report failure state on the command output for one power supply;
Not Installed
Installed but not plugged to power
Faulty Power Cord
Faulty Power Supply
sonic-cli# show platform psustatus
======================================================================================================================================
   PSU           Model          Serial   Hardware Revision     Voltage (V)     Current (A)       Power (W)      Status             LED
======================================================================================================================================


 PSU 1             N/A             N/A             N/A             N/A             N/A             N/A          NOT OK             red


 PSU 2   MTEF-PSF-AC-C    MT2029X14877              A3          12.007          27.656           328.0              OK             

red
Fans
Fully Populated and Healthy Setup
sonic-cli# show platform fan
=========================================================================================
ID  DRAWER       FAN   SPEED%   DIRECTION    PRESENCE   STATUS    LED          Timestamp 
=========================================================================================
1  drawer1      fan1      91       intake        True       OK  green  20220324 03:18:25
2  drawer2      fan2      81       intake        True       OK  green  20220324 03:18:25
3  drawer3      fan3      91       intake        True       OK  green  20220324 03:18:25
4  drawer4      fan3      91       intake        True       OK  green  20220324 03:18:25
5  drawer5      fan3      91       intake        True       OK  green  20220324 03:18:25
6  drawer6      fan3      91       intake        True       OK  green  20220324 03:18:25
7  drawer7      fan3      91       intake        True       OK  green  20220324 03:18:25
8      N/A psu1_fan1     100          N/A        True       OK  green  20220324 03:18:25
9      N/A psu2_fan1     100          N/A        True       OK  green  20220324 03:18:25
Failed State
One of the below reasons could report failure state on the command output for one power supply;
Not Installed
Failed Fan (Fan not spinning or reset)
Failed or Not Installed Power Supply (for psu fan only)
sonic-cli# show platform fan
=========================================================================================
ID  DRAWER       FAN   SPEED%   DIRECTION    PRESENCE   STATUS    LED          Timestamp 
=========================================================================================
1  drawer1      fan1      91       intake        True       OK  green  20220324 03:18:25
2  drawer2      fan2      81       intake        True       OK  green  20220324 03:18:25


3  drawer3      fan3       0       intake       False   NOT OK    red  20220324 03:18:25


4  drawer4      fan3      91       intake        True       OK  green  20220324 03:18:25
5  drawer5      fan3      91       intake        True       OK  green  20220324 03:18:25
6  drawer6      fan3      91       intake        True       OK  green  20220324 03:18:25
7  drawer7      fan3      91       intake        True       OK  green  20220324 03:18:25


8      N/A psu1_fan1       0          N/A        False   NOT OK    red  20220324 03:18:25


9      N/A psu2_fan1     100          N/A        True       OK  green  20220324 03:18:25